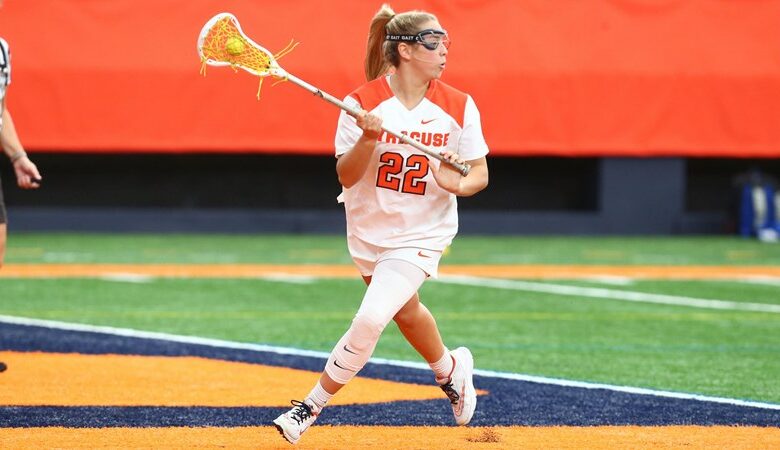 GREENSBORO, N.C. – Syracuse graduate student Emily Hawryschuk and senior Meaghan Tyrrell lead a group of seven members of the Orange named to the All-ACC Women's Lacrosse Academic Team announced on Tuesday, June 14.

Tyrrell and Hawryschuk earn the honor for the third time in their careers, while seniors Sarah Cooper and Megan Carney and junior Emma Tyrrell were honored for the second consecutive year. They are joined on the All-ACC Academic Team by graduate student Sam Swart and freshman Olivia Adamson.

Meaghan Tyrrell, Carney, Hawryschuk, Emma Tyrrell and Adamson were part of the Orange attack that averaged 15.43 goals per game. That total ranked 14th in the nation. Syracuse scored 15 or more goals in 12 games and eclipsed the 20-goal mark four times.

Cooper anchored the Syracuse defense that held its opponents to less than 10 goals seven times in 2022. Swart also played a part in the defense's success as a two-way midfielder. She picked up a career-best 19 ground balls to go along with 39 points.
Minimum academic requirements for selection to the All-ACC Academic Team are a 3.0 grade point average for the previous semester and a 3.0 cumulative average during one's academic career for undergraduate students. Athletic achievements during the most recent season are also considered in selecting the All-ACC Academic Team.

The Orange recorded a 15-6 record under the direction of first-year head coach Kayla Treanor in 2022. Syracuse earned the No. 5 seed in the NCAA Tournament and advanced to the quarterfinals.