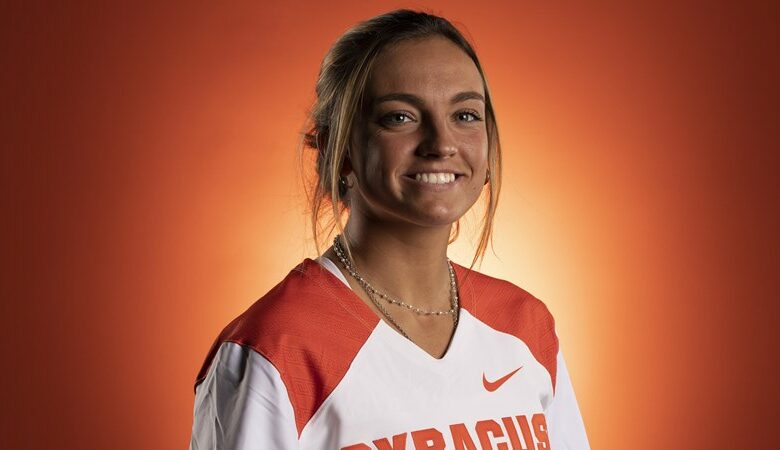 After helping guide the Syracuse women's lacrosse team to four NCAA Tournaments in the last five years, two-time Inside Lacrosse Honorable Mention All-American Sam Swart will use her final semester of NCAA eligibility as a member of the Orange field hockey team while completing her master's degree.
In high school, Swart was a three-sport athlete at Archbishop Carroll. She excelled in lacrosse, field hockey and basketball but ultimately chose to pursue lacrosse in college at Syracuse.
"I definitely want to make sure I take the time to thank Coach Ange [Bradley] for allowing me this opportunity to be a part of the field hockey family at Syracuse," Swart said. "This has always been a dream of mine and she knows that! The little girl inside of me right now is screaming 'go Sam go!'"
Swart played on the club field hockey circuit for WC Eagles and was in the USA Field Hockey system throughout high school. She was a member of the U-19 national team where she was coached by non-other than Syracuse field hockey head coach Ange Bradley.
"I am excited to finally be able to coach Sam again," Bradley said. "We have waited patiently for this moment. Sam is a former member of the U.S. U-19 team and is an amazing athlete and great person. Few have the ability to play two sports at such a high level and Sam's ability to do this speaks volumes for the caliber of athlete she is. Her intangibles are invaluable and rare. As a member of the lacrosse team, she has been where we are looking to go – to a Final Four and national championship game. I am excited to see her lose the goggles and get rid of the net on her stick and finally put the #4 on her back as she competes on Coyne this fall."
A two-time All-ACC honoree, Swart started all 21 games and recorded 39 points on 26 goals and a career-high 13 assists in her final year on the lacrosse squad. She also picked up a personal-best 19 ground balls to go along with six caused turnovers and three draw controls.
During her five-year career, she helped lead the Orange to four NCAA Tournament appearances, including one trip to the national championship game. Swart ended her lacrosse career at the Intercollegiate Women's Lacrosse Coaches Association (IWLCA) Division I All-Star Game on June 5.
"Coach Kayla [Treanor], Coach Gait and my parents have been amazing helping mentor me and guide me to never stop chasing my dreams. It makes decisions like this easier when you always have the best support system behind you."
"I am so excited for Sam to be playing field hockey this upcoming season at Syracuse University," Treanor said. "Only the most elite athletes have the opportunity to play two sports at the highest level in collegiate athletics. Now, Sam joins that group of the very best athletes in the country! All of Syracuse women's lacrosse will be rooting her on this fall. Good luck Sam, we are so proud!!"
Swart says she thinks about being fearless and taking chances when it comes to making the transition to field hockey after five years of lacrosse at Syracuse. "You never want to be five years down the road and have any regrets!"
Syracuse is coming off an Elite Eight appearance in the 2021 NCAA Field Hockey Tournament. The Orange finished the season 14-6 overall and ranked No. 10 in the country. 'Cuse defeated No. 4 Penn State 4-1 in the first round of the NCAA Tournament before ending its season with a 2-1 loss to No. 5 Maryland in the Elite Eight.
Despite falling short of winning a national championship as a member of the lacrosse team at Syracuse, Swart's goal of bringing a title to the Salt City remains the same but this time with a different team.
"I gave my all to the Syracuse lacrosse program and I promise I will give my all to the Syracuse field hockey program and my new teammates! I look forward to winning a national championship with my new Orange family!"