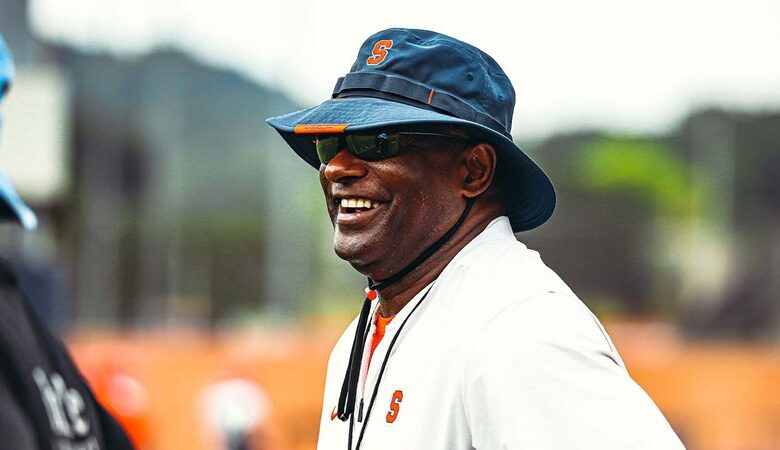 Week one of Syracuse football's training camp is officially in the books.
The Orange returned to campus on Tuesday and held four on-field practices from Wednesday-Saturday in their first week of preparation for the Sept. 3 season opener vs. Louisville. 'Cuse hosts a home game in the season opener for the first time since 2017. Season, group, packages and individual game tickets for the most anticipated home schedule in recent memory are on sale now at Cuse.com/Tickets.
Here's all you missed from week 1 of 'Cuse Camp:
Tuesday, Aug. 2
The Orange returned from little more than a week away between summer conditioning program and the start of camp. The team was back in town by Noon, with the day consisting of Coach Babers, Sean Tucker and Garrett Williams holding press conferences to officially begin camp. Newcomers to the program this season took new headshots on Cuse.com and then the remainder of the day was spent in entrance meetings with various support staff areas, as is customary on report day.
Babers Press Conference | Players Press Conference
The highlight was Kevon Darton – a walk on who has emerged as a crucial component of the defensive line in the past few seasons – was surprised by Coach Babers with a scholarship during a meeting.

EARNED.@KCKD45 earned his scholarship. pic.twitter.com/1SdZjzaETT

— Syracuse Football (@CuseFootball) August 2, 2022
Wednesday, Aug. 3
The Orange officially hit the field! While the first two days require just helmets for the NCAA's mandatory climate acclimatization period, first glimpses of the squad were available.

Back to work 🍊 pic.twitter.com/tO7Ee7VKrh

— Syracuse Football (@CuseFootball) August 4, 2022
The practice was open to the media, with Coach Babers and offensive players available after practice.
Garrett Shrader Interview | Matthew Bergeron Interview
Thursday, Aug. 4
It was the final day before shoulder pads can come on. The team will have more practices in just helmets later in camp to meet NCAA requirements for limits of days players can be fully padded, but for the next week all practices will have at least shoulder pads.

Friday, Aug. 5
Shells came on for the third practice of camp and defensive players were available to the media after practice. Hear what Duce Chestnut and Mikel Jones had to say:
Practice pics:
Love when the pads come on 🍊🏈 pic.twitter.com/qUlI0ZF9TM

— Syracuse Football (@CuseFootball) August 5, 2022
Saturday, Aug. 6
The Orange welcomed some alumni back for the weekend to view practice on Saturday. Director of Player Development/Alumni Relations Deon Maddox hosted some alumni for a reception downtown on Friday night before even more came out to practice Saturday for an exclusive look at the 2022 squad.

Thanks to the different generations of the 'Ohana for joining us for practice this morning.

Your continued support is so important to us.

Forever 🍊 @CuseAthFund pic.twitter.com/fwM7JA30ma

— Syracuse Football (@CuseFootball) August 6, 2022
Practice pics:
Sunday, Aug. 7
The team is off for its mandatory weekly off day on Sunday, which means there will be no on-field practice.
Next week, full pads will come on Tuesday, and ACC Network will be in town on Wednesday to tape the ACC Road Show during practice. The crew of Wes Durham, Jordan Cornette and Eddie Royal will have a set on the practice field and tape the show throughout practice. It will air that night at 7 p.m. on ACC Network and will feature interviews with Coach Babers and key players, plus exclusive access to practice.

Powered by CUSE.COM.