Sports
Babers Bolsters Recruiting Staff Heading Into 2022 Season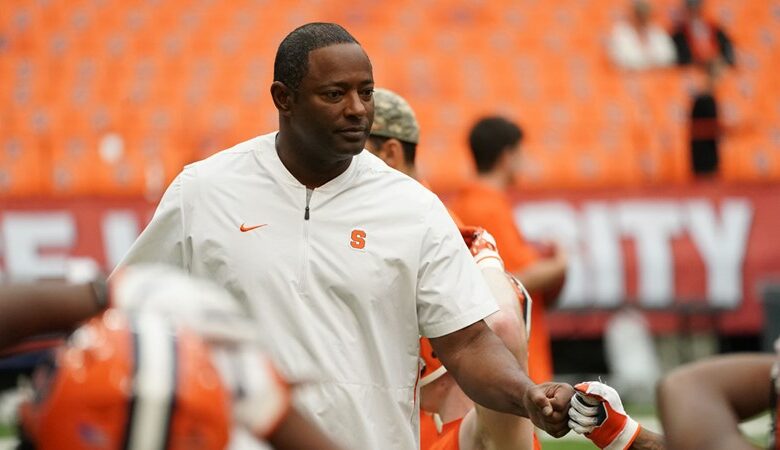 Syracuse head football coach Dino Babers has reshaped the Orange's recruiting staff as the team heads into the 2022 season.
Gino Gigliotti was elevated to the Director of Recruiting in March. Additionally, Babers hired Khalil Ahmad to serve as the Director of High School Relations and McKenzie Bostic to be the program's On-Campus Recruiting Coordinator.
Together, the group will be tasked with identifying and attracting some of the nation's top prospects to Syracuse.
"Gino has worked his way up and done an outstanding job in his time at Syracuse," Babers said. "I'm excited about the direction of our recruiting department with the addition of Khalil and McKenzie under Gino's leadership."
Gigliotti has been a member of the Syracuse recruiting staff since 2019. He previously spent two years at Coastal Carolina as a recruiting analyst (2017 and 2018) and the 2016 season as a defensive quality control coach for his alma mater, SUNY Cortland.
Ahmad joins Syracuse from Rutgers, where he worked in player development. He also has a stint at Patterson East Side High School in 2019 and 2020, where he helped the program to back-to-back winning seasons. In his role with the Orange, he'll develop and maintain relationships with high school coaches and recruits.
Bostic comes to the Orange after a two-year stint as the Player Care Coordinator with the Columbus Crew of Major League Soccer. Prior to that, she worked for the Tampa Bay Buccaneers for one season in the events and entertainment department. A 2019 graduate of The Ohio State University, Bostic spent two years with the Buckeyes football program as a recruiting and administrative assistant. While there, she assisted the recruiting staff in bringing some of the nation's top-ranked recruiting classes to Columbus.
"Khalil and McKenzie bring great energy to our recruiting efforts and have made an immediate impact in their short time at Syracuse," Babers said.
The 'Cuse recruiting department also loses a beloved member of the staff, as Laurene Porillo, the Administrative Specialist for Recruiting, retired at the end of April. Porillo, who was a member of the staff since 2003, spent 19 seasons in the recruiting office where she was a liaison for incoming student-athletes through the recruiting and admissions process.
"Laurene's retirement is much deserved, but everyone in the football office will miss seeing her every day," Babers said. "She was a crucial part of our staff for all six years that I've been here and 19 years in total, and I wish her nothing but the best in retirement."
In addition to the restructuring of the recruiting staff, Deon Maddox will take on an additional role. He has been named the Director of Player Development/Alumni Relations. Maddox previously spent one year as the Director of High School Relations before being elevated to his current role in March.
A two-time Syracuse graduate, Maddox '95 M'00 will continue to foster relationships with his fellow alumni, but also develop Syracuse's football student-athletes off the field.
"Deon has been a fantastic addition to our staff," Babers said. "I look forward to seeing what he can do in his new role."
The 2022 Orange return 17-of-22 starters from last year's squad including a pair of First Team All-ACC selections in All-American running back Sean Tucker and linebacker Mikel Jones, setting up for an exciting fall. Season tickets to Syracuse's seven-game home schedule are available now at Cuse.com/Tickets.
Powered by CUSE.COM.