Music
The Appraisal
Legend Paul McCartney takes the stage at Fenway Park for 2022 Got Back Tour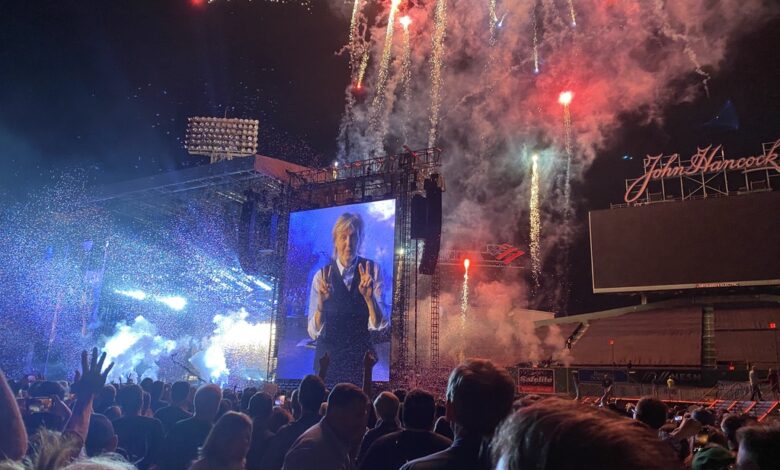 Article by Molly Lindstrom
80 years old. 65 years of performing. Nearly 3 hour shows with a setlist of 37 songs. 
Truly no one can do it like Paul McCartney.  

The beloved former Beatle brings his magic to the stage once again on his Got Back tour: his 16th major concert tour as a solo artist. On June 8th, the Fenway Park crowd was overjoyed to welcome McCartney as he opened with "Can't Buy Me Love". Sir Paul alternated throughout the night between Beatles classics, Wings favorites, and more contemporary solo work. In between songs, his charm and wit were front and center onstage.
"I know the songs you people like the most, I can tell because you all have your lights [phones] up. I know that it's The Beatles' songs and not my new songs. But, we don't care. We're going to play them anyway." 
It seems unlikely that others could get away with such a bold statement. But for this beloved icon, the audience ate it up: laughing and applauding as Paul McCartney played the next new song.
McCartney continued to show his charm by interacting with his audience throughout the show. Before taking on "Blackbird", he asked his audience to raise our hands if we had ever attempted to learn this challenging classic on guitar. Thousands of hands in the stadium shot up, mine one of them.
My favorite moment was his stripped-down ukulele version of "Something", honoring his late bandmate George Harrison. He also took on an acoustic version of "Here Today", paying tribute to the memory of late Beatle John Lennon. McCartney later strung together "Get Back", "Band on the Run", "Let it Be", "Live and Let Die", and "Hey Jude": a combination of nostalgic hits the audience knew and sang every word to.
John was honored again during the first encore performance of "I've Got a Feeling". His vocals were actually able to be isolated from the famous "Let it Be" rooftop concert (thanks to filmmaker Peter Jackson of the Get Back documentary). This way, McCartney was able to virtually duet with John for the first time in over 50 years. He missed his friend, and we missed watching them together. It was a heartwarming highlight of the show.
Seeing Paul McCartney in concert is like watching a movie about his career where he is the narrator, and his music the soundtrack. We travel through his early days as a Beatle, his success with Wings, and critically acclaimed solo work: all sprinkled with charm and stories that make McCartney who he is. The name of the Got Back is quite fitting, as Paul "got back to where he once belonged".