Music
The Appraisal
AJR Burn The House Down at NYC's Forest Hills Stadium on their 2022 OK Orchestra Tour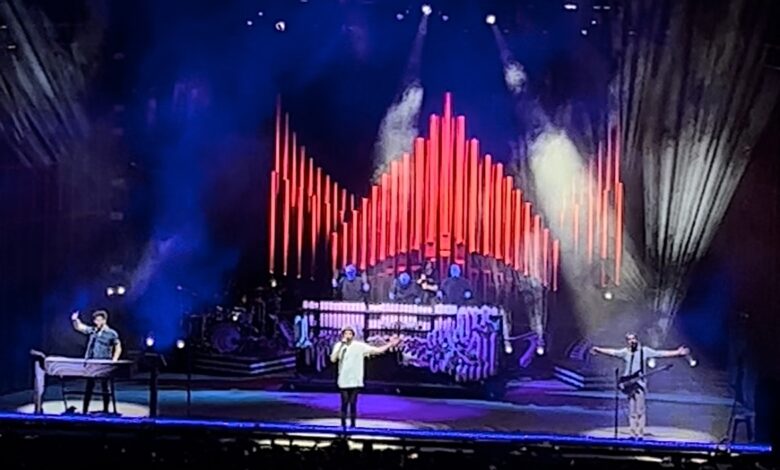 Article by Aree Clarke
Band of brothers Adam, Jack, and Ryan Met, also known as AJR, made their return to NYC on their most recent tour playing to a crowd of 12,000 fans at Forest Hills Stadium. The New York natives had been touring their latest album OK Orchestra from April of this year through June, bringing along artists GAYLE and BoyWithUke as their opening acts. Despite the immense pressure that likely came with playing a hometown show with thousands in attendance, AJR was as cool as ever, pulling out all the stops to make the show extra special.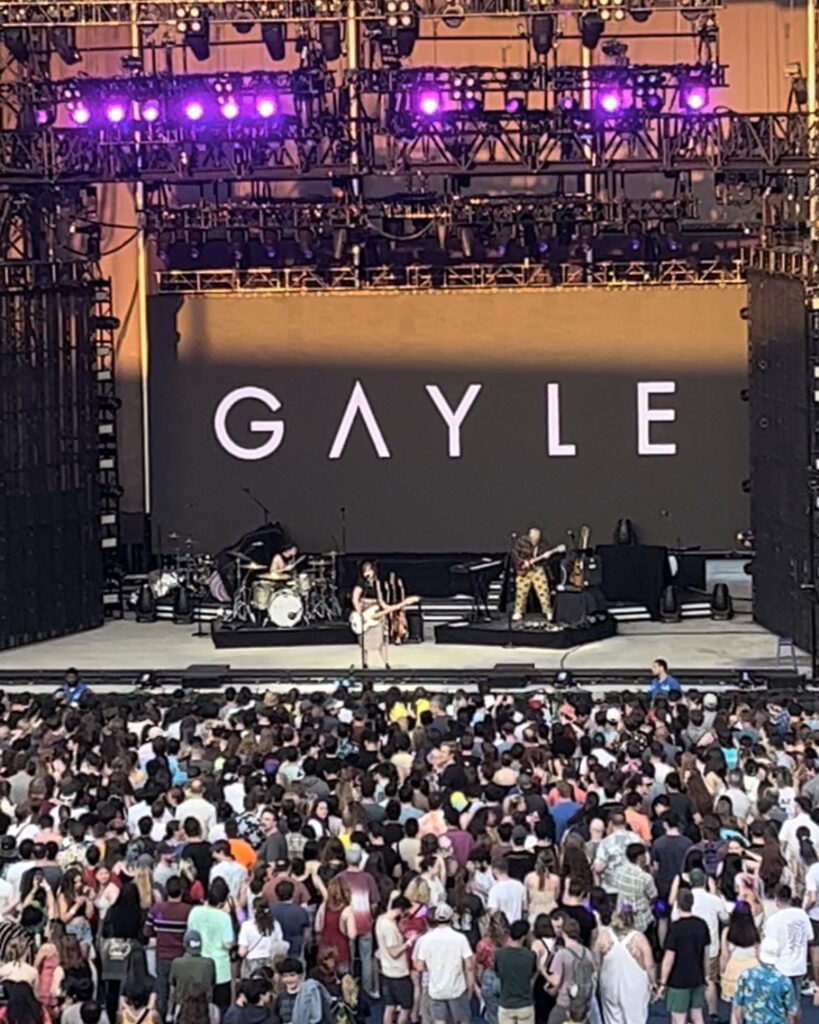 Opening for the band in NYC was Texan singer-songwriter, GAYLE, who most may know from her hit song "abcdefu" that went from TikTok viral to topping the charts in multiple countries. Her debut EP, a study of the human experience volume one, was released back in March, but because I hadn't listened to it, "abcdefu" was my only point of reference for the kind of music she made. Imagine my surprise when she ran out on stage and started shredding on a white electric guitar. I was blown away by her energy. GAYLE was brimming with personality and an incredible vocalist. She demonstrated her extensive range throughout her set, going from belting on "sleeping with my friends" and "e-z" to delivering wispy, romantic vocals on "kiddie pool". She also performed a cover of Joan Jett & the Blackheart's "Bad Reputation" that had the entire crowd rocking out with her. By the time she closed out with "abcdefu", the angrier version, the crowd was so comfortable with her, and I couldn't help but sing along with her.
AJR concerts are never just concerts: they're experiences. Popular themes within their music are human connection, feeling your feelings, and having a good time despite the bad. I found that their setlist reflected those themes well. Their opening number, "Bummerland", a song about hitting rock bottom, was immediately followed by "Karma", a song about going to therapy. They also sang three of their radio hits, "Burn The House Down", "Sober Up", and "Bang!". The brothers performed their newest single, "I Won't", just as they had for every stop of the tour prior. By the time they made it to NYC, the audience already had the lyrics memorized, despite the song still being unreleased at the time.
The show was chock-full of memorable, interactive moments that added to the experience. There was a talking animated head introducing the band that bantered with the crowd, a segment where the band pointed out audience members who caught their attention (they couldn't ignore the fans in the front wearing banana costumes), and a personal story from Ryan about the time they met Elton John at the iHeartRadio Awards. Most notably, there was a 'Do Not Push' button that showed up on the screen behind the band multiple times to interrupt the show. In the end, Jack explained that the button was a metaphor for his battle with OCD. During the finale, he gave the button to a fan in the crowd to push, signaling a virtual flood that broke the gates on-screen open and swept the band up into their final number, "Way Less Sad", a song about progressing towards happiness. 
Some other key moments from the show included a medley of AJR's earlier songs played on trumpet by the talented Arnetta Johnson, a breakdown of the production behind their 2017 hit "Weak", and the famed Blue Man Group joining the band onstage to perform their collaboration "Ordinaryish People".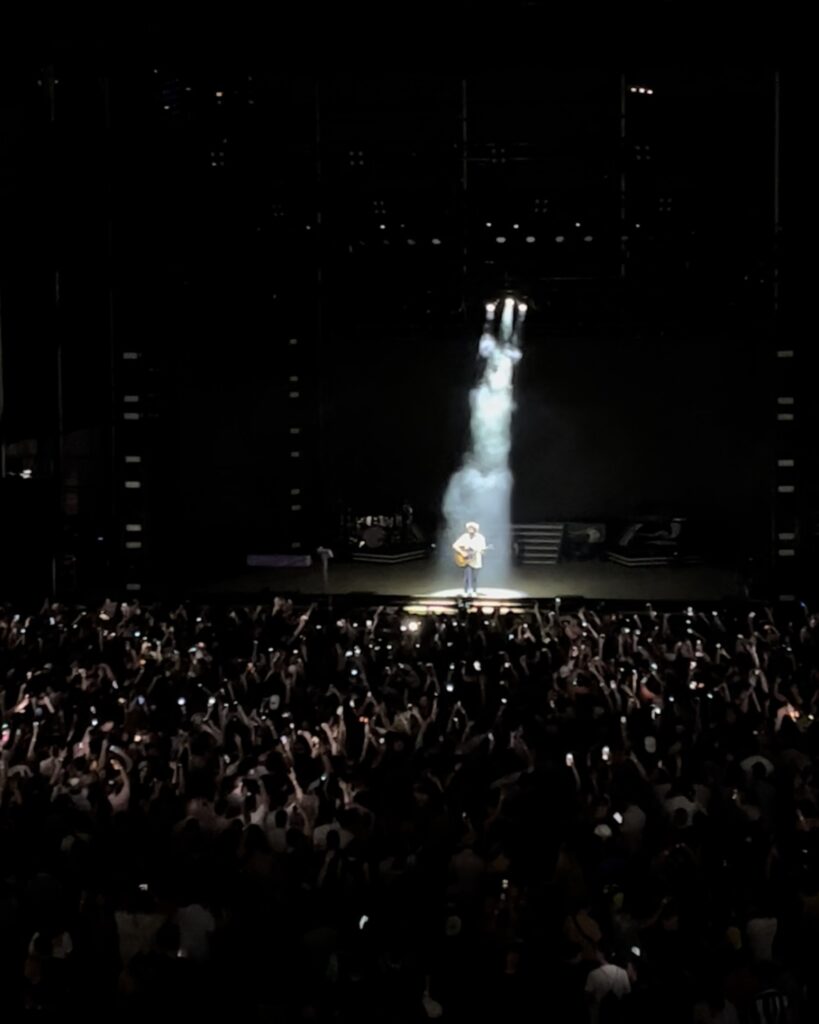 There are so many wonderful things I could say about AJR's night in NYC, but I really want to emphasize how impressed I was, not only by overall production of the show, but by the band's constant ability to be vulnerable, harness that vulnerability into their music, and then inspire their fans to be the same. It was a music show, a comedy show, and a therapy session all in one, a blend of highs and lows that had me emotional and exhausted by the show's conclusion, but wanting nothing more than to experience it again. The following day, AJR took to Instagram to share their feelings, in awe of the fact that 12,000 people came to see them that night. They wrote, "It was hard not to cry. Thank you NYC for sticking around." and I think it's nice to know that the show meant as much to them as it did to so many of us.
OK Orchestra live at Forest Hills was one for the books, and I personally cannot wait to see what AJR has in store for their next tour.
Listen to AJR's album OK Orchestra here: https://ajr.lnk.to/okorchestra